George McVey is a Small Press veteran who has been around for many years working with such as Matt Feazell and others. He also runs GEM Studios. And now doing work for Hamtramck Idea Men. To check out his new projects go to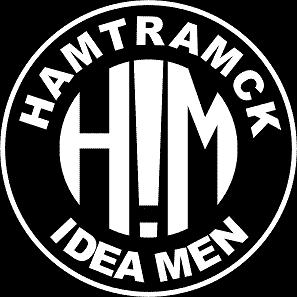 I think you'll like it! Cant wait for more. Lets hear from George or GeoMc himself.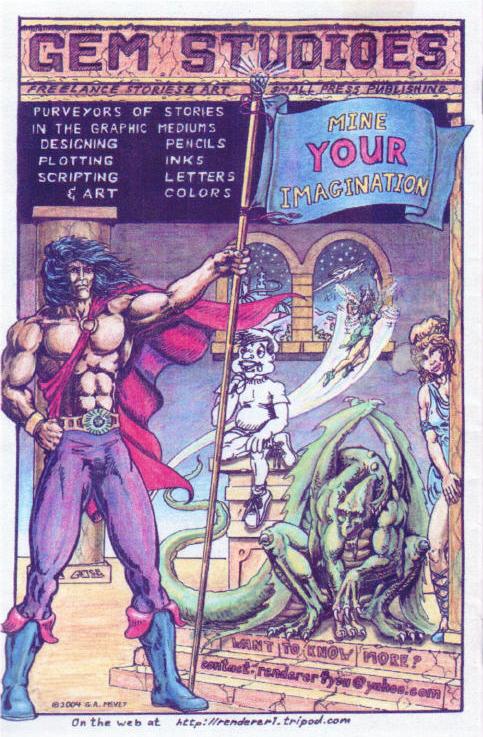 Name: George McVey Age: 55('til Dec. 12th) Sex: Male.

Back in California (1973) – went back to school to train as a technical illustrator. Tried out unsuccessfully for the 70s DC apprentice program. Continued to make a living in graphics, production work, technical illustration – slipping in cartoons when I could.

A long time participant in Small Press, I've done work in the industry for around 3 decades, although early days were rather sporadic. I love comics for their ability to show and tell a story no other print memdium can. Only movies or television come close, which probably explains my recent sidebar of film involvement.

Starting in 1978 I put numerous pinups in various small press titles of the time, most notably ZOLASTRAYA and The BARD, and worked on a graphic novel called HEROES' BLOOD for ORACLE PRESS that never saw publication. Then I lettered ARROW COMICS title The REALM for a couple of issues.

Family concerns took me back to manufacturing to support the family for quite a while after that brief stint. Meanwhile, in my spare time, I sketched for my own enjoyment & came up with a number of concepts that would see later publication.

In 1999 I hooked up with TRIUMPH COMICS to ink their SOULWATCHER title, created & pencilled by Edward Davis III. I did a couple pinups in #2 of that title, as well as the cover illo. Then full inks on # 3. Did the original cover for #3 as well, but never saw any copies of that one. TRIUMPH folded, so there was no #4.

Laid off for a couple more years, but kept attending cons, resulting in a lot of feelers, but no actual work. Met Bill Bryan, who was doing the OZ series for ARROW COMICS, & discussed a possible collab with him that ended up actually coming out later from PennyBack Press.

In 2003 I was fortunate to get a friend's table at SNAP when he couldn't make the show. Friends like Matt Feazell, Sean Bieri, Suzanne Bauman, Pam Bliss & others had long touted Small Press, so I decided to check it out. I'd planned on Mainstream, but saw the potential in this previously unexplored area. What finally decided for me was a fan who came up to the table with a pair of books from '87 & asked me to sign them. How he knew I was there I have no idea, since even the original occupant of the table didn't have his name in the show's event book. Anyway,to see a fan of that long standing told me Small Pressers were a loyal group; one that was a whole new market to me, not to mention the source of a lot of new friends. So I set to work.

As soon as I got home I started on STARTLE!, the first of what became a number of titles brought out under GEM Studios or affiliate imprints. STARTLE! became the first book released by PennyBack Press, soon to be joined by others.

I'd already made a book called TERRA 2920, a sci-fi limited series that I was promoing at SPACE. That became the first DynaMite Press title.

By the end of '03 I had four books on the market, all brought out by the Studio & sub-imprints.

I started checking out the web, rewarded by meeting Tim Temmel, then heading CF COMICS, an imprint whose proceeds went to Cystic Fibrosis research. For Tim I did such things as ACTUAL COMICS, a SUPERMAN mythos parody. (That title was also published by a trio of other publishers.) I also did numerous pinups for CF titles, like CFC PRESENTS & even a couple of covers,for OMNIMAN and HERO BIJOU. Unfortunately, those higher up at CFF felt the line did not represent the cause, & the imprint folded.

About that time I got ahold of FINDLAY COMICS, who accepted my PORTAL PRIME concept for their anthology title COMICS. PP appeared in #s 2 & 3 of that title, then I lost touch with Findlay.

I also had pinups in various publications & did inkover for Darrell Miller's SUPER SHORTS title.

Not happy with the sporadic work for others I decided to concentrate my energies on getting the books out myself. DynaMite Press picked up the PORTAL PRIME series previously handled by Findlay, continueing the limited series.

Meanwhile GEM Studios hooked up with XYOPLI for a controversial piece called But For The GRACE. GRACE was published in a number of formats by both XYOPLI & GEM Studios, as well as RenderBooks.

Meanwhile, PennyBack Press wasn't sitting idle, with STARTLE!, LEGENDS Of IF, & You Say You Like HEROES? all coming out, the latter featuring the forementioned collab with Bill Bryan.

And over on the Temmel side, Tim decided to restart an old imprint, TBT. For them I produced numerous pinups, covers, logo design, & ink overs. So far HERO DUJOUR, TBT TRIPLED ACTION, & SUPERTEAM G-X have featured my work.

In summer of '06 MAIN Enterprises accepted my SISTER STEEL concept for publication in their title PHANTASCAPE. There's no definite release date for this yet, but Jim Main recently told me the cover art is "in house" so it should be before the end of '06

At this point I have second issues of TERRA 2920, PORTAL PRIME, STARTLE!, & You Say You Like HEROES? scheduled for release this year as well, though it may end up being first part of '07 for a couple of them

Talk atcha later & seeya in the funnypages

George


I got a letter e-mail from George with more info! I hope to update this page more in the future.


As a 'heads-up', the second issue of TERRA 2920 will be out by the end of this month; & second issues of PORTAL PRIME and STARTLE! will be out by year's end, hopefully in time for Christmas. There's a possibility of seconds of a couple more titles by year's end as well, but I wouldn't hold my breath on them. After all, I'm one guy. Gets a bit rough doing all chores on so many titles sometimes, so...