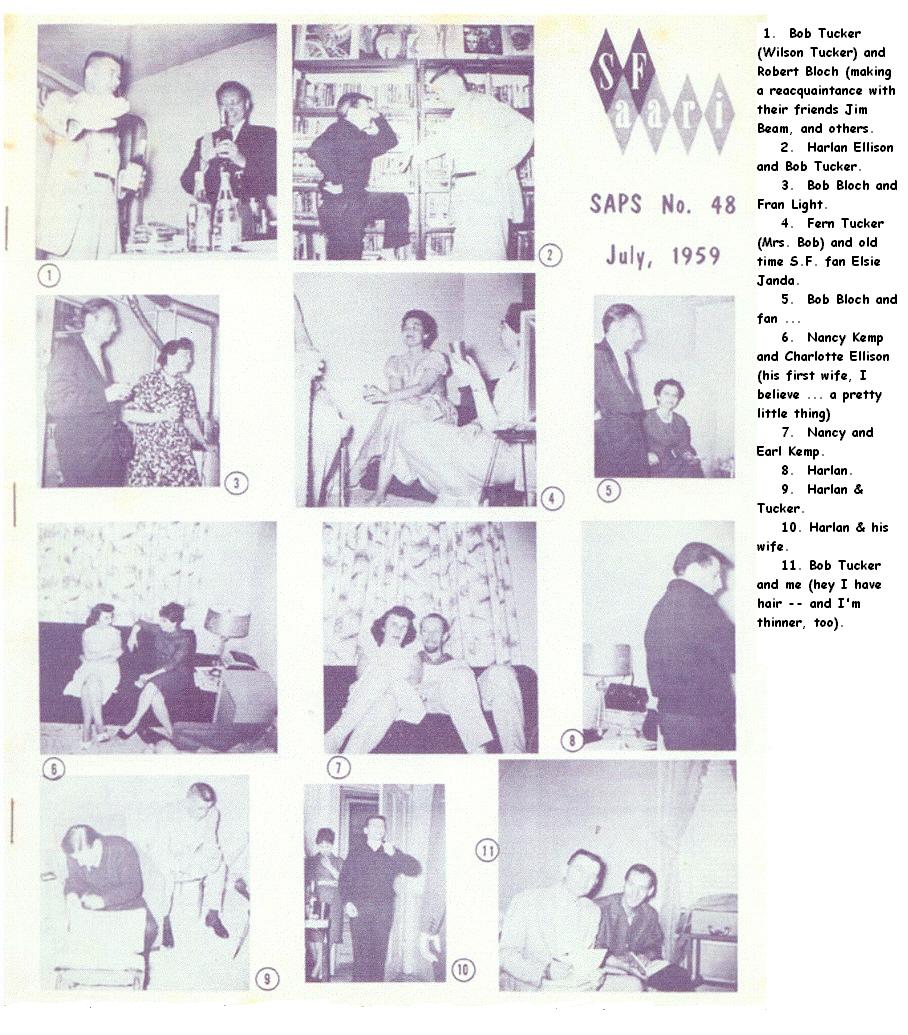 Hello again, The first set of photos below from left to right are. 1) Me and Rick Yager and a piece of original art I had just bought from him. 2) Me and Rick again, 3) Rick, myself his son and my wife and (then) two kids. Row 2: Rick and I, and that's Milwaukee fan George Schwartz (spel) in the foreground, looking at the art and fixing his glasses. The next two photo's are both of Rick and I again. Row 3: Rick signing autographs in the first picture. Behind him (over his head) is the legendary Uncle Gene Kousek, and just in front of him is Frank Eisgruber. I don't know who the fan is in the yellow shirt -- thought I do recognize him. These are followed by two photo's of Rick and I again, but in the third photo his son is in the background, behind the original art (my wife was taking these pictures -- so that's why they're mostly of me). Row 4: These first two photo's were taken at the first Nostalgia Fest (Nancy Warner's show) at the Pick Congress hotel. The first is of Walter Koenig and myself just after consumating a trade for buttons (he got two comic togs, and I got some Fawcett buttons). This was taken in front of my table which was in the far North East corner of the main room. The 2nd photo is of my wife and Walter. The third photo was taken at an early YMCA meeting, and I believe it was taken by Jim Hanley. It shows me with a gun to the head of Kurt Gore (who still shows up at the major shows -- he's now a comic strip collector). Kurt use to trade me (and Larry Charet) Golden Age comics he had bought at a garage sale in his neighborhood). He would trade them for early Marvel Silver Age comics. That's it for now. Let me know if you want any individual shots of the above. I'll continue going through my files, to see if there are any other "treasures". I'll be sending a couple of more black and white photo's that were taken by my brother-in-law at one of the first Chicago Comicon's at the Pick Congress next.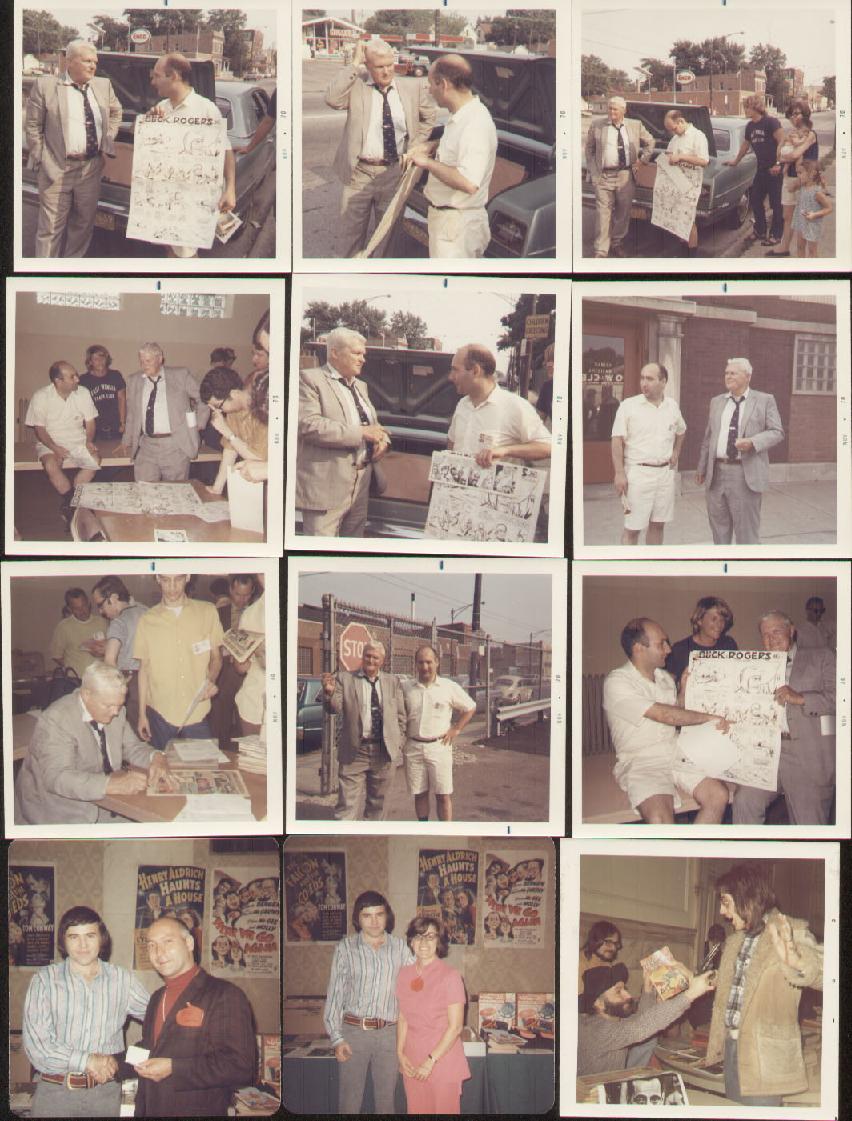 As promised here are some more photos. The top two were taken at one of the first Chicago Comicon's. The 2nd row are two color photos of my kids in my attic with a part of my expanding (back then) collection. OK, here we go. The top two pics are from an early Chicago Comicon. That's Jenette Kahn on the far left, Russ Cockran (I'm going quick, so I may not have the names spelled quite right). And Mike gold with his back to us. I'm on the far right, and that's young fan Mark Patinkin just to my right. His cousin is the famous actor. That's me and Russ talking in the right picture. The second row are a couple of shots that may not be of interest, but I thought I'd send them anyway. That's my daughter Laura behind the chair with an original Charlie McCarthy dummy and a Plastic head Mortimer Snerd. And the next picture has my son Jamie playing with my train set. These were taken in the attic of my house at 4717 N. Harding Avenue in Chicago, which was also the sight of some of the early Fantasy Collectors of Chicago meetings (though those were held down in the basement -- it was a French Basement -- so people had take one step up in order to get into it)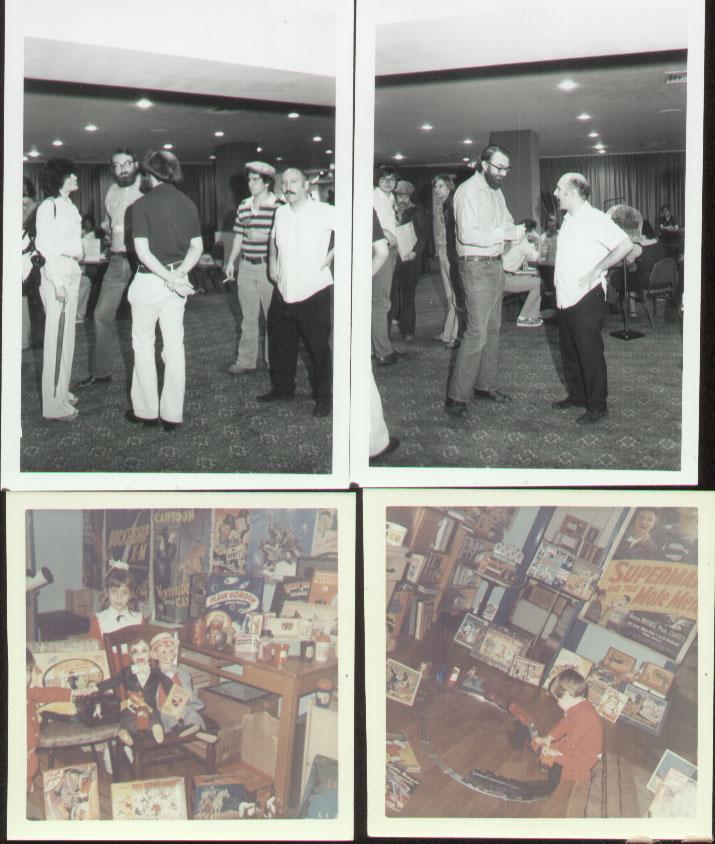 Here's the breakdown on the photo's: 1) The brain-trust: Bob Weinberg, Joe Sarno, Larry Charet. 2) George Breo (soon to open The New Fantasy Shop) has his light saber on yours truly. 3) Paul Kupperberg, Joe Sarno, Paul Levitz watch as Joe Orlando talks with ... a nose (and I know that nose, but can't seem to place it).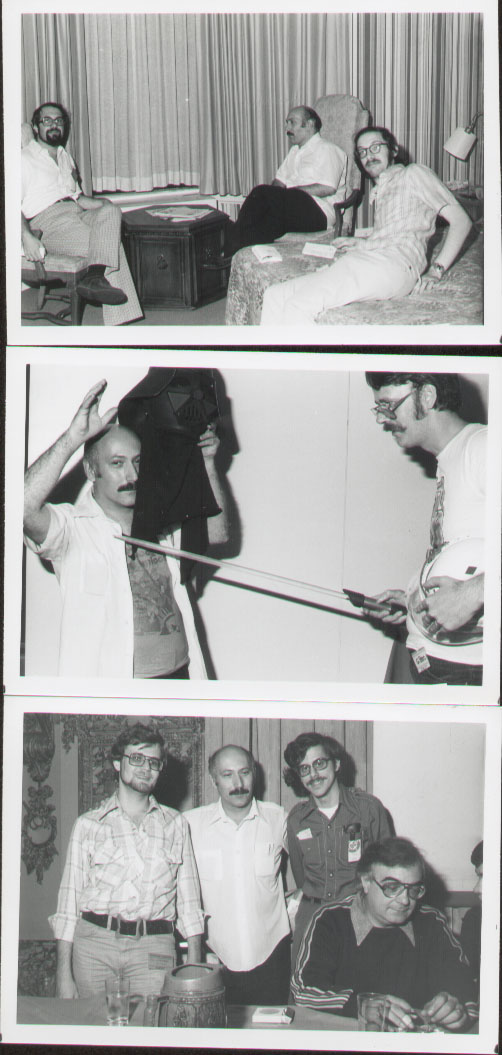 In this next set of phots I wish I still have the originals of these. These were taken (probably by my wife) at one of the swap meets at NorthWest Federal Savings & Loan. Probably in the late 1960's. I'll identify the photos one by one on the next email. I sure wish I had the originals on these (though it is possible I still have the negatives -- but I have to search and search). Ron Massengil (who'll be sharing a table with Larry Charet -- right behind us) has some photos from the pre-Sarno days (I was in the military). I'll ask him about bringing some. Row one is a photo of Ross Kight (on the left) and me in front of a very nice Body Snatcher photo. Pic 2) Is a bunch of us watching a serial (or some such thing) Pic 3) I don't know -- too fuzzy for me. Row 2) I think the first pic has a bunch of us sitting at a table talking about something with Alex Eisenstein on the far left (standing). 2nd photo has Ross Kight on the left Alan Wong on the far right and I think Gene Kousek, Bernie McCarthy and Dave Denwood behind them. pic 3) watching a serial (or some such thing). Row 3) 1st pic is too fuzzy. Pic 2) has (I think) a kid by the name of Haris, Alan Wong and Dave Denwood. Dave is in an area where coffee is served. Pic 3) I'm not sure, but I think that's Kent Tesar in the foreground. Row 4) Bernie McCarthy heads away from the screen on which I think a serial is being shown (or some such thing). Pic 2, 3 and 4 are just too fuzzy. I'm wondering if Alan Wong has any photo's too -- he keeps "everything" I think.