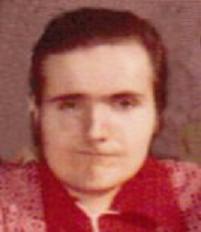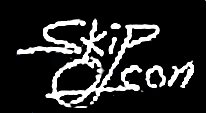 Received an interesting e-mail from Kimberly Martin in relation to the GB Love page here in the Fandom Hall of Fame Section.

In the e-mail she really liked GB's page and then talked about an artist friend who back in the 70's did art for GB's Rocket's Blast/Comic Collector fanzine. I found her story of "Skip" so fascinating I just knew I needed to do a page for him. First a bit of a background..., which I found on his fan page on FaceBook.

a bio that Skip wrote about himself, he was a jokester!

"On the dark and stormy night of Dec. 25, 1951, I was born in Boston, Massachusetts (near Arkham)*. Following rumors of strange parentage, I soon moved to a small fishing village called Gloucester, Mass. Shortly thereafter I found a strange meteorite which gave me the astounding power to...cloud my own mind! Discovering very quickly the limited uses of this power, I gave it up. Fortunately I also gained the power to draw anything I could possibly imagine plus a few things I couldn't. Approximately 10 years later, following rumors of strange parentage, etc....I moved to the wide-open confines of that metropolis of the southwest, Phoenix, Arizona, where I have resided to this day, being as the one prerequisite for remaining is apparently that you be followed by rumors of strange parentage...In other words, Phoenix and I get along great, and it's here that I've honed my native talent to a razor-edged keenness.

Following art, my interests lean towards writing, and collecting S-F, comic and film related material, and not to mention original art other than my own. I've had my work in many local and national fanzines in all areas of fandom, and I'd like to thank some local Phoenix Phen, notably Tim Kyger for recomending me to your immeasurable high-class 'zine "New Venture" and Curt Stubbs (alias Capt. Coors) for the wild-eyed raving promotion of my art. Thanks Tim and Curt--whatever you are....Both of the above mushrooms are currently working feverishly on the Phoenix in '78 Worldcon bid. Do it good!

One of my main goals in the near future is to get into prozine S-F illustration, and with a showcase like "New Venture", the odds of that are more in my favor than ever. As you can tell by my work, the style is primarily realistic. The main reason is that I've always felt the more fantastic, outrageous and unbelievable a subject is, the more impact and sense of reality you generate by giving it a very graphic portrayal. For isn't part of the basic premise of Science Fiction to make the unbelievable believable? In essence, that's what I try to do, visually. Mind you, that's only my opinion, so it could be utter nonsense, but it works for me. Well, this is already too many words for an art issue, so from here on, let the art speak for itself. Enjoy.

Robert "Skip" Olson"



Kimberly wrote "Arkham of course is in reference to H. P. Lovecraft's writings." I will later post an original of warships of Barsoom, drawn by the subject of rumors of "strange parentage". It occurs to me that since John Carter went to Barsoom (Mars) from Arizona, that Skip was naturally drawn to the area and may have been in fact a Barsoomian General in hiding!

Here is an official bio I found on Comic Book Database that Kim had written: Skip was born with Duchenne's Muscular Dystrophy and Cerebral Palsy and given a life expectancy of 16 years. He often said it was very important to him to "beat the odds" and he wanted to live past 30 and did so. When he was small, he was one of Arizona's first "Jerry's Kids". He was glad to help promote research for this disease through MDA.

When Skip was a teen, he completed the Famous Artist Course offered by Albert Dorne and Norman Rockwell. This was his only formal training, but took on students by the time he was about 20. About this time, he did quite a few private commissions, and had a number of pieces published in comic fanzines (ads, etc.). Some of the work can be found in Panorama One 1971, The Collector #22, #28, #29, RBCC published his Dormammu and Darkseid.

Skip created a doctored up Krell monster in a tophat from his favorite movie, "Forbidden Planet" and had a small mail order business selling novelty items with this logo (The Krell).

Skip collaborated with Leonard John Clark on "The Crusader" comic strip that was intended to be published by Gary Groth. He later collaborated on a script with Mary Otto for the Six Million Dollar Man, but the series was canceled pre-production.

Skip was involved with the Phoenix Comic Club in the '70's that evolved into the Collector's Marketplace in the '80's (some people associated with this group were Bruce Hamilton, Dan Adkins, Bill Pearson, John Clark, Jay Willcox and Don Newton to name a few). Skip is responsible for a lot of Phoenix area early convention art such as the earliest LepreCon posters. He was the Fan GoH for LepreCon 5. Other works are IguanaCon II Report, and CopperCon. In 1981, Skip did several ink drawings of Yoda from "Star Wars".

He was infrequently out, but did enjoy trips to the Mall, movies and conventions. Skip was a well respected character that everyone adored, and admired. He taught each of us something of value to enhance our lives.

Date of Birth: December 25,1951

Birthplace: Boston, MA

Date of death: May 1983

The following are excerpts of e-mails to me from Kim and Jay Willson.


Hey Doc!

May 8th


I enjoyed reading about G.B. Love. When I was young, I had an artist friend in Phoenix who G.B. published a few times in RBCC (1971-Masters of Evil Nemesis-Dormammu and Darkseid #8). Robert Noel "Skip" Olson Dec. 25, 1951-May 1983 (He didn't care for his middle name). It meant a lot to Skip, and he frequently told me how grateful he was for the opportunity. He told me that G.B. had a similar situation in Florida. Skip was born with a severe form of muscular dystrophy, with a life expectancy of only 20-30 years. He made it to age 32, passing the year before Don Newton (another of the Phoenix crowd). When he was a toddler, he could only scoot around so they started calling him Skipper, which evolved to Skip. He and Leonard "John" Clark were attempting to get their strip "Crusader" published at the time. John and Summer Hamilton went on to do the Disney comics later, John eventually being Editor-In-Chief at Gemstone. These are a few of the crowd that built the Phoenix base in the early 70's.

 
Other than those two drawings, the only other published drawing I've seen of Skip's was the cover of the IguanaCon in 78? I think most of his art was sold privately, and possibly smaller fanzines. It was truly amazing to watch him do the detailed penciling and inking with such frail muscles. He spent much of his time drawing from a hospital bed, but the walls of that room would've made any fan go nuts. They were covered with drawings of every possible hero and villain imaginable. Skip was also extremely bright and witty, and is greatly missed.


I remember one year his mother asked me to take him to the convention in Phoenix, because she had to work. It was '71 or '72, well before conventions were popular. John was tied up with administrative work there, so I got to be the wheelchair driver. When Skip got out, he wanted to see EVERYTHING, so we went everywhere..I think twice. I wasn't any bigger than he was and soon tired. I was rescued twice however, first by Stan Lee. I think that made Skip's year, to have had a half hour of kindness (and undivided attention) by the master. Later, I was gladly relieved by John.

 
I wanted to thank you for remembering these men, at the time they didn't get the recognition and respect due to their extra ordinary feats. I also wanted to tell you that if G.B. was like Skip, he enjoyed every second of the attention and wouldn't have traded the fans for anything in the world.


Thank you again,


Kimberly Martin (Phoenix crowd outsider 1971-1974).


Hi Doc:


May 10th.


I love that, one of my nicknames!


I was and still am a fan, most of our personal collection being 1960's era. I think Skip was published in RBCC Issue 22 and 28? I heard from John recently, and he said Skip was published in some of the smaller fanzines at the time also. I don't know what became of most of his work, although I believe it was likely sold to local collectors. "The Crusader" was going to be published by Gary Groth, but it never happened.


I was friends with Skip primarily, but saw everyone often. The crowd in Phoenix was spearheaded at the time by Bruce Hamilton who has since passed (Summer's Dad). Summer's last name is now Hinton and she runs a dance studio. John is semi-retired but doing freelance work for Dark Horse and another company. John was very close to Don Newton, I think a student at the time. (We were all just kids at the time, 14-22). It's so funny when I can remember his first attempts to letter! I can't believe that was 40 years ago!


I don't know who the other blogger is, but love to see these histories online before the knowledge is lost. I'm very involved in historic preservation, particularly since we seem to be moving toward (green) digital. I'm hoping these new series of Marvel movies will inspire the young generation to pick up a comic, enjoy holding something real, experience the smell of ink and truly appreciate the work involved. And yes, my husband was a publisher of political cartoon books in the 80's..so I am partial to real work. ;)


I know Skip would love to be remembered, art was his passion and his life. He soaked up every experience he could, generally through other means. I learned a lot from him, and I'd like to believe he learned from me. I've always had horses, and I remember him asking me once to accurately describe the feeling of riding a horse. He closed his eyes, and with an artist's mind..lived it.


Kimberly Martin.


May 11th.


Hi Doc!.


I'll shoot John an e-mail today. Skip's mother probably is gone, she had been a nurse for obvious reasons and I would guess was 45-50 at the time. He had an older brother who was serving in Viet Nam at the time, so I only met him once. They were the nicest people.


If you read some of Door Tree's comments, you saw mine about Skip beating me at chess. I didn't add that what made that so funny was that I was the 1972 Arizona State Chess champ for my age group. (wink) Skip knew Bob Bierbaum who also posted there. It looks like he has an e-bay comics store now, but had been dealing from CA at the time, I think? I'd be interested to know who Vanwall is, too.


I'm still cataloging all we have, but it's mostly Marvels, a few Action, and a few Adventures. I have the first Green Lantern, a lot of the Avengers, Superman, a ton of Fantastic Fours, X-Men and some of the odd ones like Space Family Robinson, Have Gun Will Travel (he was so cool!), etc. I learned to appreciate comics from being allowed to "play with" my uncle's and mother's Big Little books. I hope my cousins still have those from the 30's (they removed most everything from the grandparent's home)!


Skip just always amazed me with his talent, it would've been so difficult to capture for him, not having experienced so much that went into being a hero or villain. I think that's why he liked to ask me everything. I would also be in BIG trouble with his Mom if she knew how fast I pushed him sometimes.


Mr. Hamilton was a sweet, funny and obviously gregarious man. I didn't realize at the time how influential these people would be. He was just "Summer's Dad". I'm sure John and Summer could tell you more, since they were actually in the business.


I just realized that a version of "The Crusader" was published the month before Skip passed, how sad! I'll let John tell you the particulars.


Enjoy!


Kimberly


June 3rd


Hi Doc!


Jay said the early members were Bruce Hamilton, Don Adkins, Don Newton, possibly Bill Pearson, Don Markstein..those names you likely are familiar with. Then, the collectors and eventual store owners were Blake Shira, David Lee Heath and Alan Gireuax. There were a lot of fanboys. I only knew Skip and John Clark well, but met Jay once and a few others.


At first it was small enough that the meetings rotated at member's homes. It grew to get large enough that the meetings were held at Thomas Mall. I went to one of those with Skip. It looked a lot like a mini Expo set up in the middle, tables with boxes of comics to purchase after the meetings. Eventually it got large enough that they'd meet at one or two of the hotels in Phoenix that no longer exists. Those were similar to bi-monthly mini conventions.


I think the artists and Bruce probably started it due to their mutual interests. It grew over the years, but when Bruce got the Disney contract and started Another Rainbow it fell off. So, it sounds to me like he was the heart and soul of the club.


Enjoy~


Kim


June 5th


I found something yesterday that made me smile. One of Skip's later ink drawings ('81). I was not surprised to see the character he chose, he WAS Yoda! My eyes have gotten weak enough that I can't make out the number, but it looks like he intended to do 100.


I'm going to cc: Jay on this, I don't know if he's seen this ink drawing or not (and I'm lazy today)!


Enjoy~


Kim


Yeah, I remember that drawing well. I believe Skip drew that in 1981 using stills from the movie that were run in STARLOG magazine. He drew a number of Yoda drawings after the movie came out, it was obviously his favorite character.


Jay Willson


June 6th


Thank you for the clarification Jay! I was not surprised at all that Skip could relate to Yoda, it's a pity he didn't see the other 3 movies that showed a bit more of Yoda's talents.


I wanted to introduce you to DOC Boucher who owns the Inter-fan site with the Don Newton, and G.B. Love page. He is also an artist.


Doc, this is Jay Willcox! He is the font of information on Phoenix area comic artists, and was one of Don Newton's friends and students. He has a fantastic memory of what was happening in Phoenix in the now "historic" fandom era.


Enjoy~


Kim


June 16th


I have another note to share with you from Summer (Hamilton) Hinton about Skip


Dear Kimberly -


It was so nice to hear about the project for Skip. I think it is a wonderful tribute, and I know that he would have been pleased. The only one of his close friends that I keep in touch with is John Clark. Please let me know about Skip's family if you gather any information.


I remember Skip as always being upbeat, despite his medical conditions. I admired him because he had a job addressing letters for a lawyer and it made him proud to be earning his own money (which of course he used for his comic book collection).


My father arranged for Skip to attend one of his Comic Book Conventions. Back in the early 1970's - before all the Handicap Laws were enforced - there were quite a lot of details to do something like this. I think that Skip had not been out of his house in a year when this happened, and he was very excited.


Skip drew some of his amazing artwork for various school projects I turned in. Everyone was always impressed by his detail & life-like drawings. . .even more so when they realized the extent of his medical limitations. Skip was fun to be around and I enjoyed many visits with him, John Clark, and the comic book gang. He lived 20 years longer than the doctors predicted, and I like to think he was as happy as he could be, given his circumstances.


I hope this helps with your project. Good luck with your noble cause.


Sincerely,


Summer Hinton


I'd forgotten about the money job addressing envelopes! I suggested it because I was doing the same (for free) for my Dad's brokerage correspondence. Was glad to get another note, he was a happy man!


Ha! Yes! Skip was a pretty happy and industrious fella!


Thank you so much for everything.


Kim


From: jaywillson


June 6th


Actually, Jay WILLSON, but I digress.

 
Happy to discuss Don Newton or Skip Olson any time. I was a good friend of Don's all through his comics career days. Great guy, even better artist.



Art

Below are are two pieces Skip) did for GB Love's SFCA's Rocket's Blast/Comic Collector fanzine.(1971-Masters of Evil Nemesis-Dormammu and Darkseid #8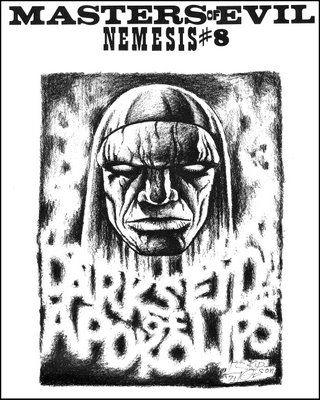 Below are renditions from the Lensman book series 1970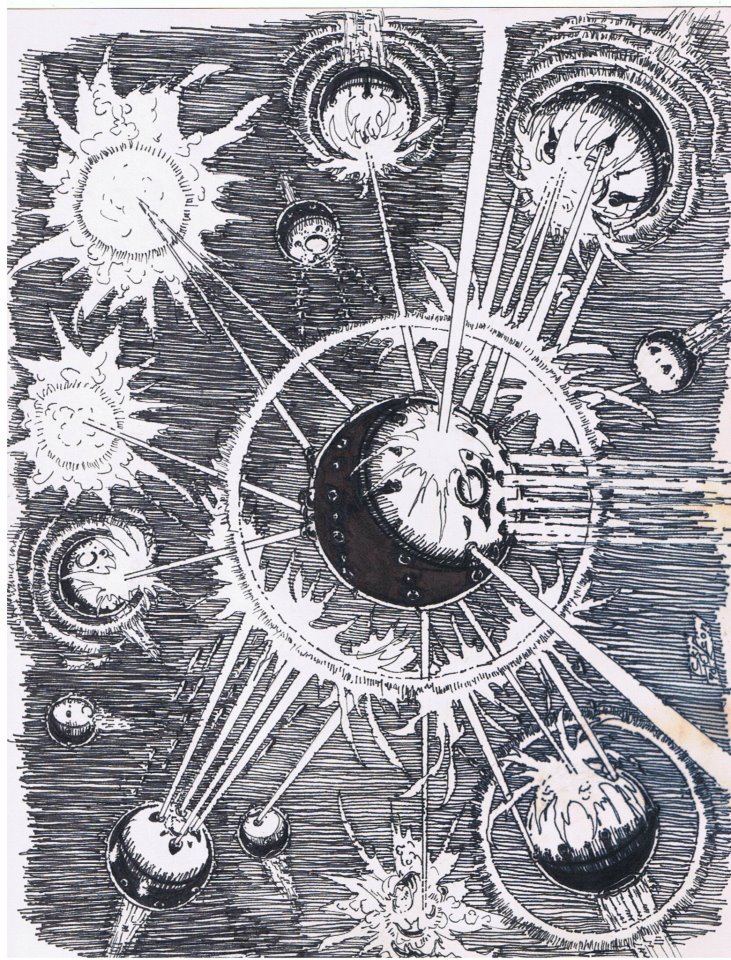 Skip was involved in some of the local conventions of the day, here is a cover for the IguanaCon II progress book.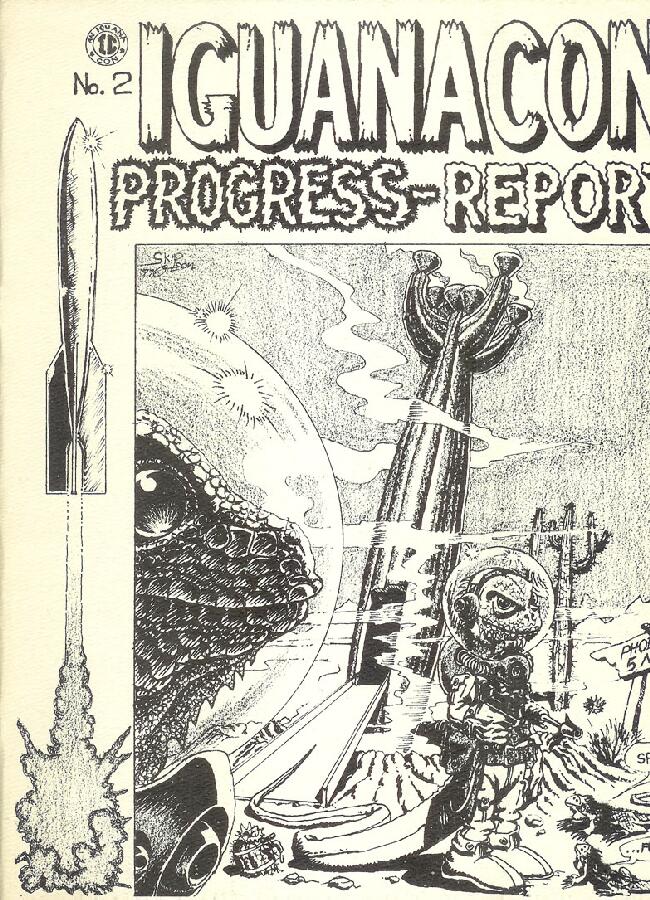 The following are some miscellaneous art work..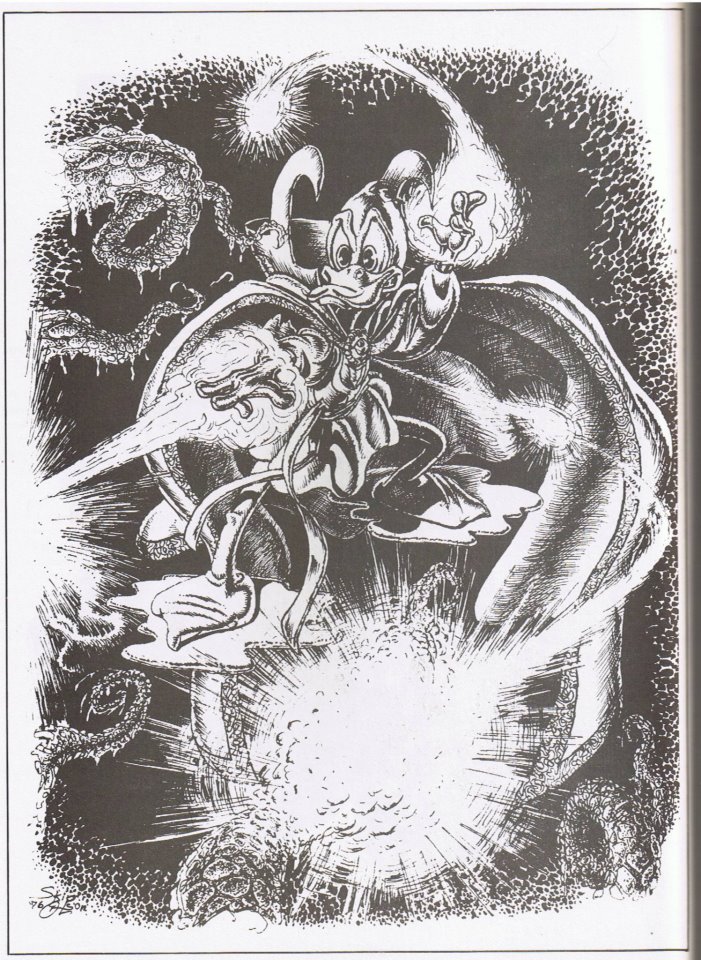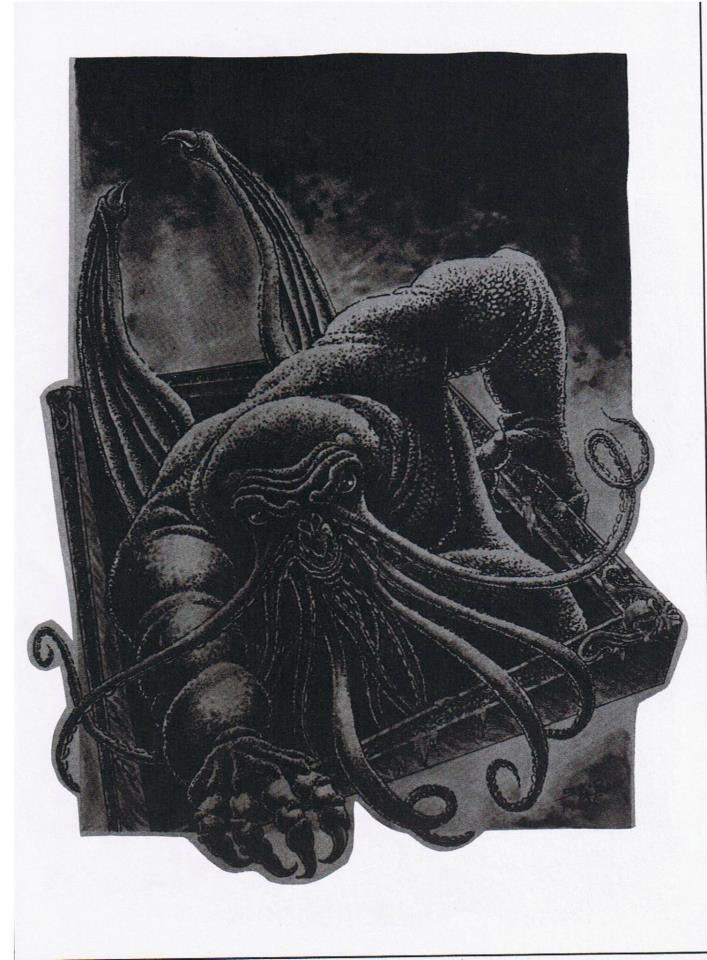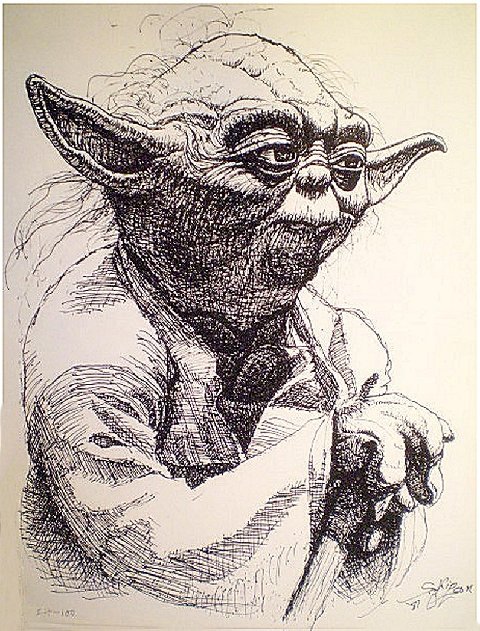 Lastly, here are a couple of photos courtesy of Kim Martin. The first is Skip's house and the second was taken in Feb. 1974 in Skip's backyard. John Clark is center (he was Skip's best friend), and Dee is who introduced Kim to Skip. Her brother David was a fanboy.